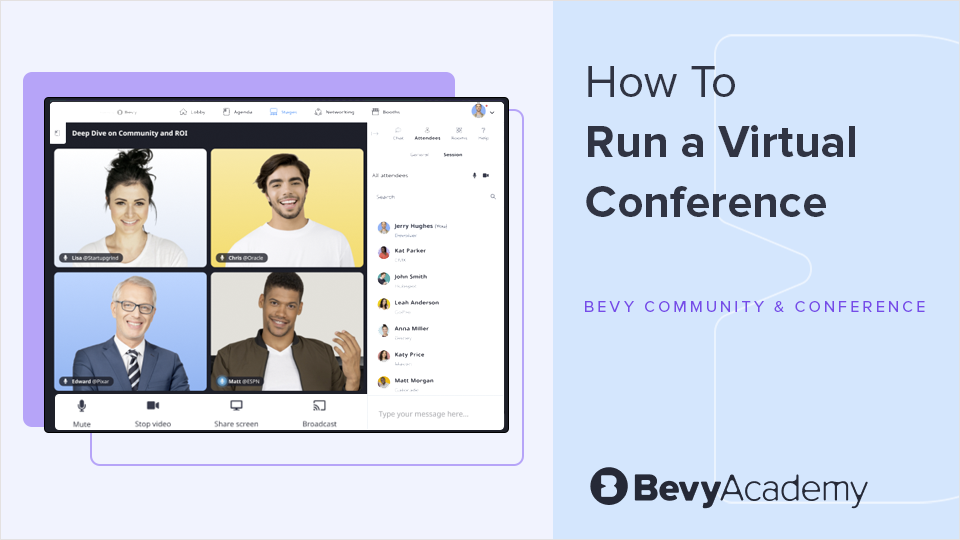 How To Run a Virtual Conference
This course is designed for Community Admins and Local Leaders who use the Bevy Virtual Conference platform to host a large-scale event.
Estimated Time: 60 min
After completing this course, you'll be able to:
GETTING STARTED
Describe the Bevy Virtual Conference event experience from an attendee perspective.
Summarize planning and execution techniques of a real-life conference event.
Provide an example of a Bevy partner network add-on or service.
BEFORE THE EVENT
Build a Bevy Virtual Conference event page, and identify where each of these options are viewable on the page: Description, logo, banner, sponsors, partners, agenda.
Locate the event Pre Order form, and identify the customization options.
List the available broadcasting and simulcasting options for the stage.
Differentiate between live and pre-recorded session types.
Explain the process of setting a booth live and interacting with a booth attendee outside of chat.
Describe attendee experience when joining a networking table that has already reached its pre-defined limit.
Provide a use case for a hidden ticket type.
Understand the importance of using audience segmentation within your event promotion communication plan.
DURING THE EVENT
Explain the purpose of the Bevy Backstage experience, and provide best practices for sharing access with your speakers and team members.
Explain how presenter mode is enabled, and describe what options are available when an attendee accepts presenter mode.
Understand best practices for screen-sharing media with audio.
Explain how host mode is enabled, and describe what moderation options are available in this mode.
AFTER THE EVENT
List the additional options available to add to the event page, after the event has ended.
Compare attendee count vs. check-ins.
Locate results of the post-event survey.
More Bevy Academy Courses
EXAMPLE