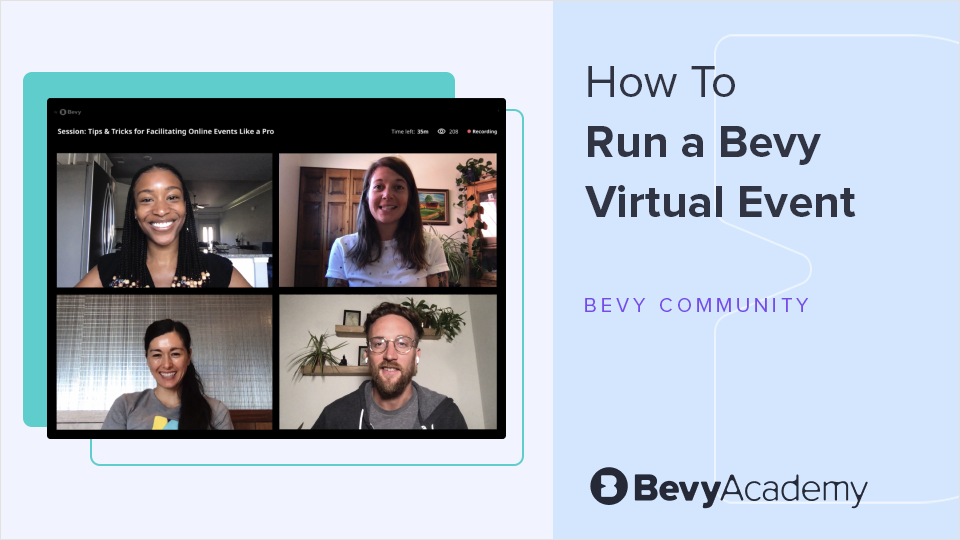 How to Run a Bevy Virtual Event
This course is designed for Community Admins and Local Leaders who use the Bevy Virtual platform to host a chapter or group-level event.
Estimated Time: 30 min
After completing this course, you'll be able to:


BEFORE THE EVENT
Build a Bevy Virtual event page, and identify where each of these options are viewable on the page: Description, logo, banner, sponsors, partners, agenda.
Locate the event Pre Order form, and identify the customization options.
Identify the automated emails associated with your event and how to create new emails for event promotion.
DURING THE EVENT
Explain how presenter mode is enabled, and describe what options are available when an attendee accepts presenter mode.
Understand best practices for screen-sharing media with audio.
Explain how host mode is enabled, and describe what moderation options are available in this mode.
AFTER THE EVENT
List the additional options available to add to the event page, after the event has ended.
Compare attendee count vs. check-ins.
Locate results of the post-event survey.